Toronto needs more rapid transit. For a variety of complex reasons, investment has not matched the City's unprecedented growth in other areas, and Queen's Park has taken notice. Recent budgets state the provincial government's intent to deliver "faster, more reliable and seamless transit in the GTA" while making ambitious, multibillion-dollar commitments for a series of specific projects.
The Scarborough Subway Extension project is important, but it is primarily a replacement of the existing Scarborough rapid transit line. As a result, we profile here the Ontario Line Subway given the potential it holds for transformational change. Unlike any other transit project proposed for the City of Toronto, the Ontario Line contributes the most obvious benefits for congestion relief and new opportunities for transitoriented communities (TOC).
This chapter also describes rapid transit for Toronto's waterfront. While it has not received the same level of attention as the Ontario Line Subway, it could similarly unlock extensive economic benefits along the City's picturesque waterfront, from Long Branch to the Port Lands to Woodbine Beach.
The Ontario Line Subway is urgently needed.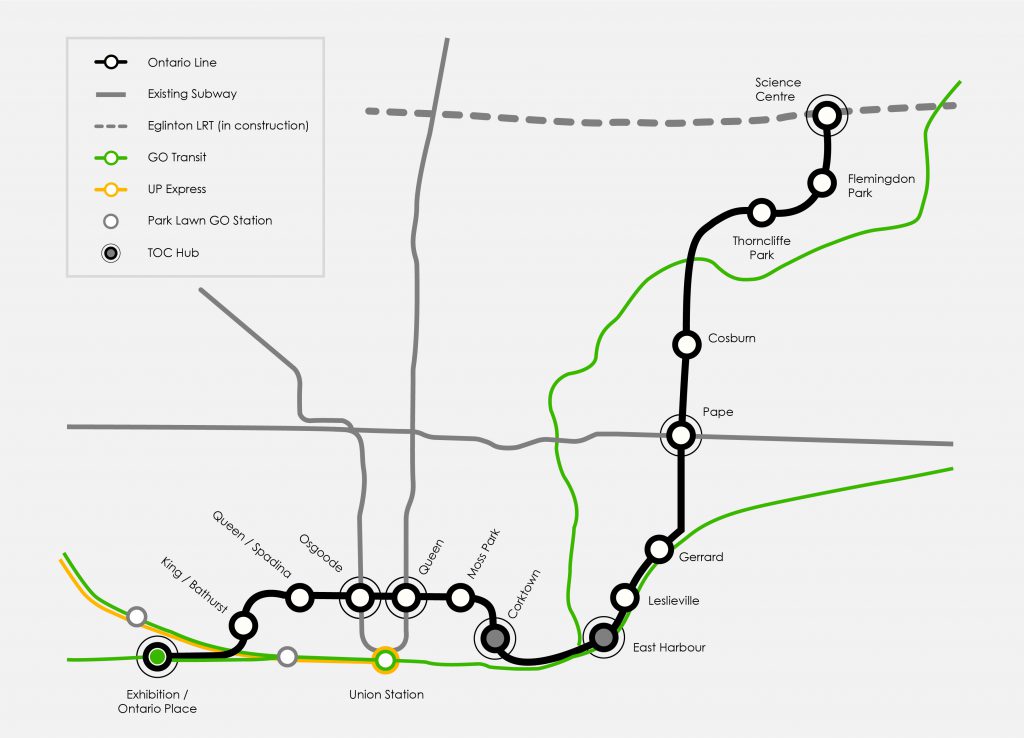 Previously known as the Downtown Relief Line, the 16-kilometre long Ontario Line will create new north-south and eastwest routes to and from the City's Central Business District, relieving pressure on the overcrowded Yonge Subway, which operated at capacity immediately prior to the pandemic. It will dramatically enhance mobility throughout central Toronto. The Ontario Line is also a prerequisite for any northward expansion of the Yonge Subway into York Region. By diverting passengers from the Yonge Subway, the Ontario Line will relieve pressure on Yonge- Bloor Station, a key chokepoint in the TTC's subway network. Reducing congestion is needed before we can accommodate additional passenger growth.
The economic benefits are enormous. With an anticipated daily ridership of close to 390,000, the Ontario Line will put 255,000 more people within walking distance of rapid transit. That's more people connected to more jobs, driving productivity, growth and opportunity. Metrolinx analysis pegs the Ontario Line's core economic benefits between $10 billion and $11 billion.
Beyond transit, economic stimulus and quality of life enhancements through TOC are spurred by this infrastructure project. Two stations — East Harbour Transit Hub and Corktown Station — are pegged for TOCs, which will connect residential space and community amenities with multimodal forms of transit including light rail transit, GO and TTC buses.
The Ontario Line is an ambitious project. It will be challenging to deliver on-time and on-budget, cutting beneath some of the country's densest urban areas and busiest streets. There will be many cynics who say that the "new normal" renders downtown communities less relevant to future growth or who use the pandemic as yet another opportunity to postpone investment in Toronto rapid transit. Ontario REALTORS® couldn't disagree more. Queen's Park must continue to work with its counterparts at City Hall and on Parliament Hill to maintain momentum for this infrastructure priority.