Subways are hard to build, especially when they cross municipal borders. For a variety of reasons those borders have traditionally constrained major transit projects in the Greater Toronto Area. Not anymore. The Toronto Transit Commission's University Line was recently expanded to Vaughan. It's time to complete the connection to York Region by extending the Yonge Line to Richmond Hill.
This project will enhance northsouth connectivity in the northern GTA, linking Union Station in downtown Toronto with Richmond Hill Centre in York Region. York Region is a major part of the GTA's current and future growth. It is expected to add 300,000 jobs and 600,000 residents by 2041. Congestion, however, which is already bad and expected to get worse, could limit the Region's ability to grow and prosper.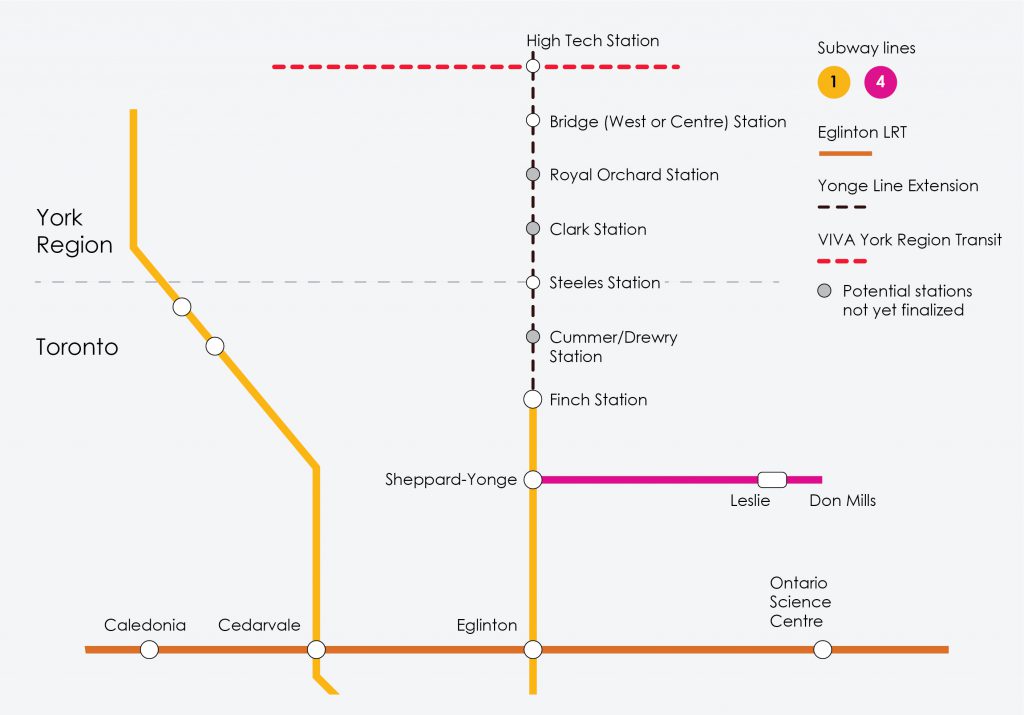 The Yonge Street Corridor is York Region's economic spine. It's home to more than 50,000 jobs, including the largest communications and information technology cluster in Canada on a per capita basis. Extending the Yonge Subway by approximately 8 kilometres to Richmond Hill will accelerate the corridor's potential by enabling the possible creation of a new multimodal transit hub. This important hub will increase the connectivity of service providers like the TTC, GO trains, GO buses and York Region's bus rapid transit, providing transfer connections under a single roof — a "Union Station North" — and thus enhancing mobility across the northern GTA.
Along with reducing congestion, the Yonge Subway Extension will be the catalyst for transitoriented communities along the route. This is expected to create complete communities that unlock employment opportunities and provide the potential for home ownership for 88,000 new residents in 23,000 new residential units. Currently there are four stations pegged for the extension. However, increasing the number of stations would increase the benefits of this long-overdue project and spur even more development along the route. This is a win-win for enhanced connectivity and increased housing supply. Both are needed for the GTA to compete.
Recent provincial budgets have committed to funding the Yonge Subway Extension. It's the right move. The Province should continue to drive this important project forward, along with its prerequisite, the Ontario Line. The Ontario Line will relieve a significant passenger bottleneck at the Bloor-Yonge interchange and therefore enable the additional passenger volumes that will accrue from the Yonge Subway Extension.