Toronto's true development potential is on the waterfront.
The Port Lands is the largest brownfield redevelopment opportunity in North America. It covers 880 acres of prime waterfront land, located less than five kilometers from downtown Toronto. The economic potential of this city-sized parcel of land offers a truly once-in-a-generation opportunity. Current plans call for a new, mixed-use city district with up to 25,000 new residents and commercial space for up to 30,000 new jobs
Two projects are required to unlock the Port Lands' full economic potential: flood protection and a transit link with the existing downtown network. With cooperation from all three levels of government, the $1.25-billion Port Lands Flood Protection project is already underway. Transit is the next step forward.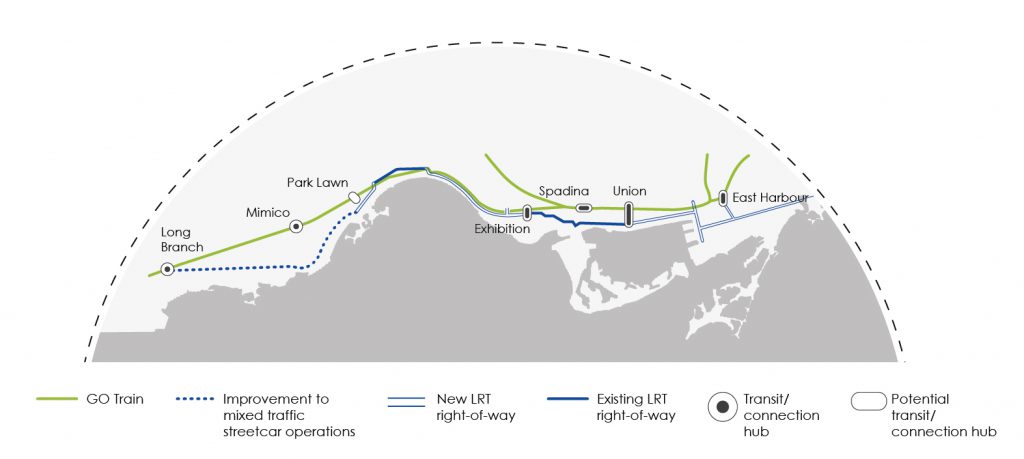 The proposed Waterfront LRT requires similar collaboration, most critically among the City of Toronto, the TTC, Metrolinx and Waterfront Toronto. The project would connect Woodbine Avenue in the east with Long Branch in the west, creating a new 22-kilometre long transit corridor across Toronto's beautiful waterfront. Taken together, this represents a series of short and long-term projects — a "waterfront transit network". The eastern portion of the Waterfront LRT is especially urgent because it will unlock the economic potential of the Port Lands. A smaller section of the larger proposal, the Waterfront East LRT alone is expected to spur 25,000 new housing units and 19 million new square feet of office space.
The full Waterfront LRT will also connect under-served, highdensity nodes along the western waterfront, like Humber Bay Shores; it will improve connectivity to some of the GTA's major tourist destinations, like Exhibition Place, BMO Field and a re-imagined Ontario Place. The line will also relieve pressure from the overcrowded 504 King Streetcar allowing faster, dependable and more comfortable travel.
Without provincial support and funding, the Waterfront LRT will remain on the drawing board. The Province should accelerate the planning and delivery of this important new transit corridor.