The western GTA is an economic powerhouse. The area surrounding Toronto Pearson Airport, referred to by economists and urban planners as the Airport Economic Zone, is the second largest employment area in Ontario. It is dynamic and full of growth potential. It is already home to more than 330,000 jobs, second only to downtown Toronto's employment cluster (in terms of the number of jobs). A transit hub has the potential to increase that to 700,000 jobs by 2035, further increasing the area's GDP contribution by 2.2%.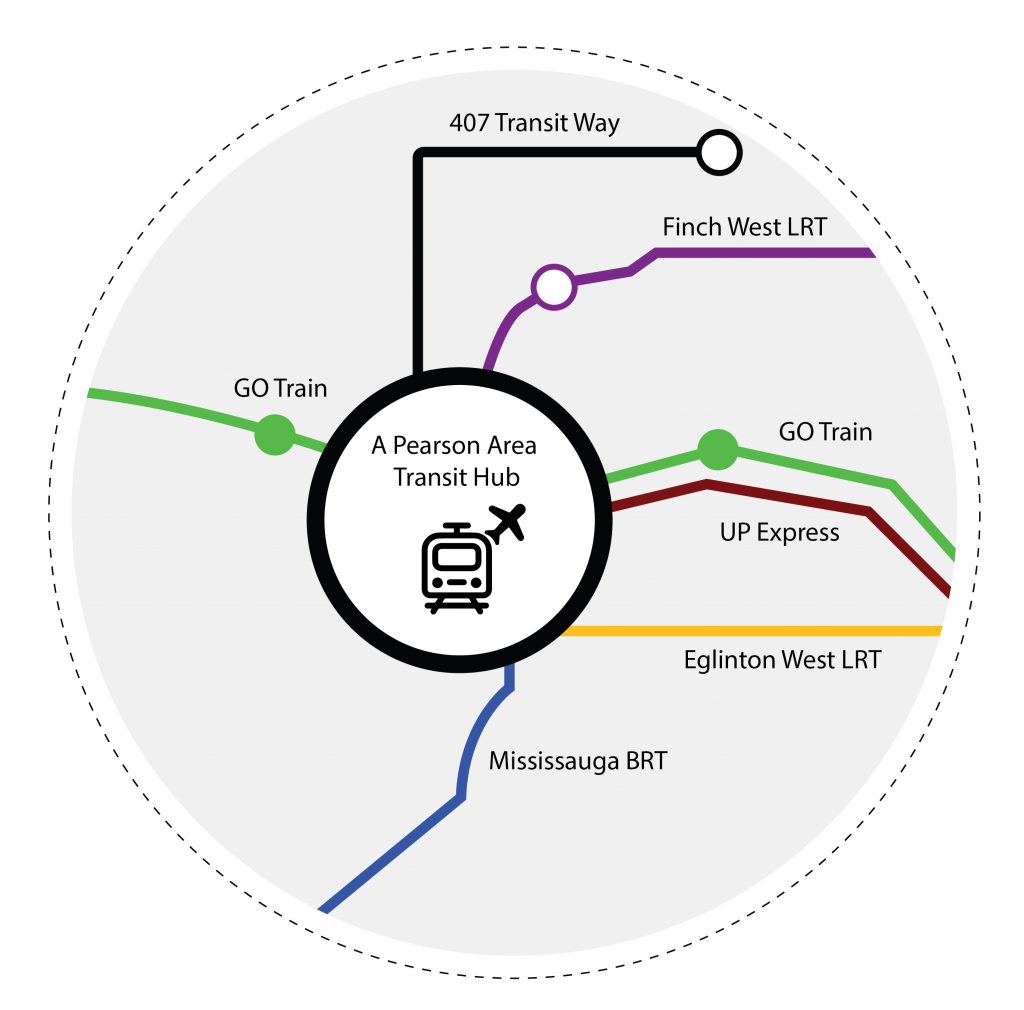 The problem, of course, is traffic congestion. Underserved by transit, more than nine out of ten workers in this area travel to and from work by car. Pre-pandemic the airport itself was the top generator of car trips in the entire Greater Golden Horseshoe, and the Greater Toronto Airports Authority (GTAA) estimates that by 2037 Pearson Airport will handle upwards of 85 million people annually, servicing an increase of 38 million travelers and commuters. Despite the pandemic's disruption to air travel, and even anticipating a lengthy recovery for passenger volumes, regional roadway congestion is still anticipated to worsen without transit connectivity. Compounding these traffic loads are trips by other commercial vehicles that must travel through the Greater Toronto Area. As a result, the GTA's major highways are the most congested in Canada. With the increase in online retail driving additional delivery traffic, congestion can only be expected to rise.
The proposed Pearson Transit Hub would cut through the congestion by integrating several existing and planned transit lines into a new multimodal transportation anchor, similar in size and scope to Union Station. This new hub — a "Union Station West" — would provide a passenger interchange for regional rail lines, such as the Kitchener GO Regional Express Rail and UP Express, and for transit connections to the Eglinton Crosstown LRT, 407 Transit Way, Finch West LRT and Mississauga Bus Rapid Transit. The fact that the hub would also serve Canada's busiest airport makes it a clear priority.
Although the Government of Canada and the GTAA are formally responsible for Pearson Airport, the Province needs to do its part to advance the associated transit projects and ensure they meet at the Pearson Transit Hub location. Given that this transit hub involves three municipal jurisdictions and four transit agencies — not to mention a federally regulated airport — the Province's cross-boundary perspective is critical to getting it done.